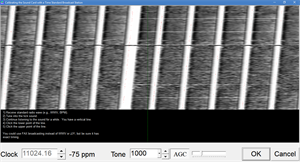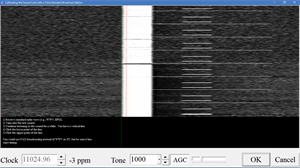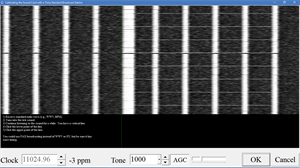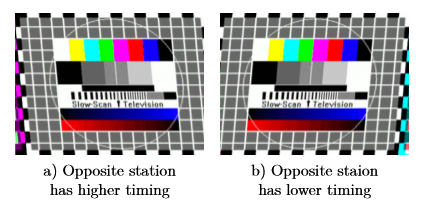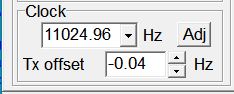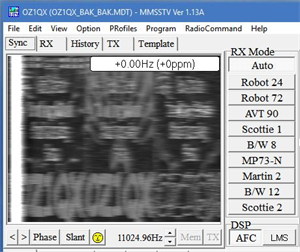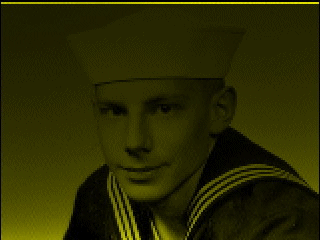 Calibrating the Sound Card with a Time Standard Broadcast Station.
Rx (Clock) calibration


Set the radio to a Time Standard Broadcast Station, frequency 4.995MHz or 9.995MHz USB, and wait for the slow or fast tick sound (be patient).
Right clicking the screen anywhere near the white line will position the green line to help with the alignment.

Start this adjustment by clicking Adj button on the Misc tab in MMSSTV Setup.
Remember that auto slant must be turned off.

After Rx (Clock) calibration, Tx Offset can in most cases be set to 0.0Hz



See: Image slant adjustment (ke5rs)
Setting up the Transmit Sound Card Sample Rate


1. After the Rx (Clock) calibration, turn off your transceiver, (no transmit over the air).
Go to Option>Setup MMSSTV and select the tab "TX". Here you select
"Loop back">Internal.
Click OK.
2. Select a picture / template and click the
TX
button in the MMSTV panel.
Leave the transmitter switched off !!!
3. Click the RX tab.
4. When the
TX
sent picture is finished, click on the Sync tab and then on "yellow smiley" button.
Your Tx slant will now be calculated. Remember the calculated value.
5. Go to MISC panel in the Option>Setup MMSSTV section and insert the calculated value in Tx offset field.
6. Go back to the TX panel and set Loop back to OFF again.
Now you have your TX aligned.
OR
Consult a SSTV friend who you know has a perfectly calibrated Rx Clock.
(See Calibrating the Sound Card with a Time Standard).

1. Let your friend turn off "Auto Slant"
2. Send a picture to your friend.
3. When your friend has received your picture, he/she must select the "Sync" tab
and then press the "Yellow smiley" button.
4. Your friend can now give you a "Correction Factor" and pass this number on to you.
5. You should select the "MISC" tab, and enter this number under the "Tx offset" field, using the OPPOSITE sign. For example if the correction factor is +0.20 then you would enter -0.20 If the correction factor were -0.20 then you would enter
0.20
That Pesky Slant
The WWV Alignment Approach (wa9tt)

In europe use a Time Standard Broadcast Station.
Frequency 4.995MHz or 9.995MHz USB

OR